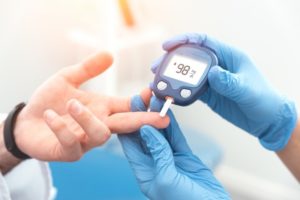 Living with diabetes is the pits. If you're diabetic, you already know this to be true more than anything. Having to constantly count carbs and check your blood sugar levels can get exhausting. And to top it all, diabetes can negatively impact your oral health. A dentist in Sparks is here to talk about the effects of poorly controlled diabetes.
You're More at Risk for Gum Disease
Did you know that you have more bacteria living in your mouth than there are people living on the planet? Without regular brushing and flossing, harmful bacteria can accumulate in your gum tissue, which can lead to periodontal disease, also known as gum disease. This bacterial infection can cause inflammation and even destroy your gums, ultimately causing tooth loss.
Nearly 22% of all people diagnosed with diabetes will be affected by periodontal disease at some point in their lifetime, making it the most common dental disease affecting diabetics. Poor blood sugar control increases the risk of contracting gum disease, as does increasing age. As with all infections, gum disease may cause the blood sugar to rise, creating a vicious cycle of poor blood sugar control and worsening dental health.
Other Ways Diabetes Affects Your Mouth
Besides increasing your risk for gum disease, diabetes can also affect your mouth in the following ways:
You might have less saliva, which is detrimental because it washes food debris and plaque out of your mouth.
Your gums may bleed more often when brushing and flossing.
It might take longer for you to heal from wounds in your mouth.
You may experience problems tasting food.
For children with diabetes, teeth may come in at an earlier age than usual.
How to Fight Diabetes-Related Dental Problems
You and your dentist can work together to help keep diabetes-related dental issues at bay. Here are a few things you can do on your part to ensure your mouth stays healthy:
Keep good control over your blood sugar levels. Visit your endocrinologist every three months to stay on top of your diabetes.
Don't smoke or chew tobacco.
If you wear a denture, clean it at least once a day.
Brush twice a day with a soft toothbrush and floss daily.
See your dentist for a dental checkup in Sparks at least twice a year for regular checkups and cleanings. Be sure your dentist knows you have diabetes.
Both types of diabetes can negatively affect your oral health, but if you stay on top of your condition, you can prevent any of these issues from taking hold.
About the Author
Dr. Marc Thomas is a general and emergency dentist in Sparks who graduated with his Doctor of Dental Surgery degree in 1993 from the University of the Pacific. He then served in the U.S. Army Dental Corps taking care of our troops. He is a mentor and visiting faculty member at Cerecdoctors.com, a member of the American Dental Association, the Seattle Study Club, the Northern Nevada Dental Society, and the Academy of General Dentistry. To schedule a checkup, click here.