Single-Visit Dental Crowns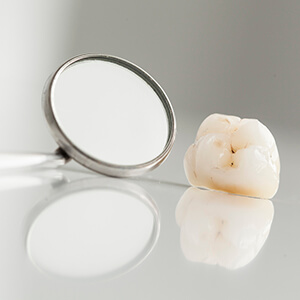 Dental crowns are commonly used dental restoration options. They fit completely over the top of a decayed or damaged tooth replacing lost structure and protecting the damaged tooth from any additional damage. We can craft dental crowns from a number of materials including gold, porcelain fused to metal, and all-ceramic. Depending on the location of the damaged tooth and your specific restoration goals, the Vista Dental Care team will help you find the right material to fully restore your smile. If you'd like to find out more, contact our Sparks dentistry team to schedule an appointment today.
---
What are Crowns Made of?
We offer dental crowns made with no metal:
All-ceramic – offers the most natural appearance, is safe for patients with metal allergies, and is the only material we use for same day crowns with our in-office CEREC unit
---
How are Dental Crown Restorations Completed?
Once we've determined the best restoration material, we can craft your crown in our office from all-ceramic materials using CEREC. While most of our cases are done in-house, for the most complex cases, our dentist will provide the necessary specifications to a trusted dental lab where your crown can be made from ceramic. If you choose a lab crafted crown, the process is completed over the course of two or more appointments. For a CEREC crown, we'll design, craft, and place your restoration in just one visit to our office. The procedure itself remains the same. We begin by preparing teeth. Then, we use the CEREC system to capture digital impressions of the prepared tooth or teeth. The CEREC crown, our in-office milling unit will craft your crown from a single block of high quality ceramic. We can then place the crown on the same day. No need for placing or removing temporaries or scheduling multiple appointments.
---
What is CEREC?
CEREC literally stands for chairside economical restoration of esthetic ceramics, but simply put, this state-of-the-art system allows us to repair even extensive damage in just one appointment. CEREC impressions are immediately delivered to our milling unit where quality ceramic is crafted into a customized, metal-free crown that will blend seamlessly into your natural smile.