Teeth Whitening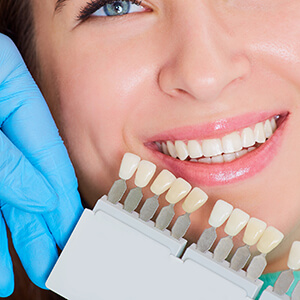 If you're one of the many patients who have visited our team looking for effective teeth whitening solutions, we are happy to offer safe, comfortable, effective at-home whitening. Unlike over the counter whitening products that promise dramatically brighter smiles without delivering on these promises, our customized take-home whitening kits provide smiles up to ten shades brighter. If you'd like to find out if our professional teeth whitening options will work for you, contact Vista Dental Care in Sparks to schedule a cosmetic dentistry consultation today. We'll examine your smile, help you understand the underlying cause of your dental discoloration, and determine whether or not whitening will be effective. If we determine your smile will not likely respond to teeth whitening, we can also provide recommendations for other cosmetic solutions like dental bonding and porcelain veneers that may improve the appearance of your smile.
---
What Causes Dental Discoloration?
There are numerous reasons why teeth become discolored over the years. That can include any of the following:
Daily wear and tear
Aging
Genetic predisposition
Using certain medication while teeth are still developing
Ingesting too much fluoride
Consuming staining foods and beverages (if it will stain a shirt it will stain your teeth)
Smoking or tobacco usage
---
How Does Teeth Whitening Work?
Our take-home teeth whitening kits can be crafted to a specific patients' precise needs. We'll start by determining whether you'd like to brighten just the top or bottom row of teeth and how much brighter you would like your smile to be. Then, we'll design your take-home whitening kit to these specifications. It all begins with custom whitening trays. Bite impressions are captured digitally, and these impressions are sent to a lab where the custom trays are crafted and returned to our office in just a few appointments.
We will also determine the ideal dosage of the active whitening agent to help you achieve the desired whitening results over the course of about two weeks of application. This is also beneficial in allowing patients to achieve brighter smiles without discomfort or dental sensitivity. You'll place a small amount of whitening gel in your application tray. Then, wear the applicators while you relax in front of the TV, read a book, or otherwise pass the time. We'll determine how long you'll need to wear the whitening tray to achieve your desired end result. Most patients see a change in their smile's coloring right away, and the optimal results are reached after about two weeks of daily application.