Dental Implant Salvage – Sparks, NV
What Happens If Your Implant Fails?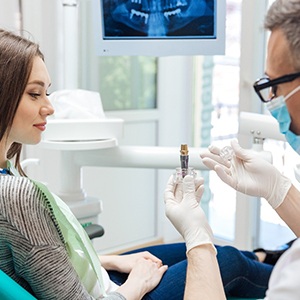 During your dental implant procedure, Dr. Thomas will take every precaution to keep the risk of complications to a minimum. That means treating any existing gum disease and making sure that the implant posts are in precisely the right spot in your mouth. Thanks to these steps, the success rate of implant surgery is over 95%. Despite that, however, failure is still a possibility that needs to be kept in mind. If you notice that there's a problem with your implants, call Vista Dental Care right away; thanks to our dental implant salvage procedures, we can help you restore the health of your mouth and save your prosthetic teeth!
---
Why Dental Implants Fail
A failed implant has either lost its bond with the bone tissue in your jaw or never joined with it properly in the first place. There are a few different reasons why this might have happened:
Gum Disease: If the area around the implant becomes infected (a condition called peri-implantitis), the jawbone will be damaged, and the post could come loose.
Smoking: Tobacco restricts blood flow to the gums, making it harder for them to heal after surgery. As a result, implant failure rates for smokers tend to be much higher than normal compared to nonsmokers.
Low Bone Density: Patients with osteoporosis or bone loss may lack the healthy bone structure that's needed for a successful dental implant placement.
Medical Conditions: Rheumatoid arthritis, diabetes, and various immune diseases can make it more difficult for implants to integrate with the jaw. That's why such health issues need to be addressed and controlled first.
Poor Oral Hygiene: If you can't keep the area around your implant free of plaque and tartar, the risk of gum disease and implant failure becomes much higher.
In each of these situations, the best solution for failed dental implants in Sparks is to seek professional treatment from Dr. Thomas.
---
How Do You Treat Dental Implant Failure?
Our goal for the procedure will either be to save the dental implant that's currently in your mouth or to treat the underlying cause of the issue so that another implant placement can be performed in the future. The exact approach will vary depending on the situation. If there's not enough bone tissue in your jaw, we may graft new tissue to the area in order to provide the density that the jaw needs to fuse with the implant posts. On the other hand, if you have peri-implantitis, we may have to take the implant post out of your mouth entirely so that we can debride the area (meaning all plaque and tartar are removed). After that's done, we may try to place a new implant right away, or we may need to give the bone some time to heal.
---
Learn More About Implant Salvage Today
Do you want to protect the investment you've made in a new smile? Get in touch with Dr. Thomas as soon as you notice that your implant is loose, uncomfortable, or causing other complications.