Implant Supported Tooth Replacement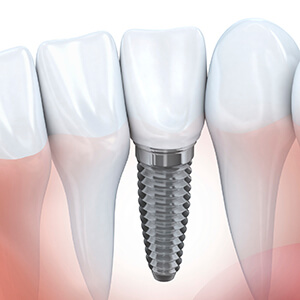 Dental implants have changed the way we replace missing teeth, giving dentists the ability to restore the entire tooth not just the visible portions. Crafted from high quality titanium, dental implants are inserted below the gum line where they form a natural fusion with the supportive gum and bone tissues closely mimicking tooth roots. This implant supported tooth replacement option is completed in two phases the surgical placement of the implants and the restoration of missing teeth. Many general dentistry practices refer patients out of the office for the surgical portion of treatment. At Vista Dental Care, we utilize our state-of-the-art CT/Conebeam scanner to accurately and precisely plan for the surgical positioning of these implant posts into the jaw. That means we're able to perform the entire procedure both the surgical implantation and restoration. If you'd like to find out more about the dental implant process, contact our Sparks dentist and team to schedule a consultation. We'll help you find the best tooth replacement option for your smile.
---
The Dental Implant Placement Process
Because Dr. Marc Thomas is dedicated to continuing education in order to provide advanced services for our patients, he has completed training in dental implant placement. Our office also has access to many of the innovative technologies that surgical practices utilize to make implant placement safe and effective, including a CT scanner. The procedure itself is fairly straightforward. We'll use our 3D scans to determine the best position for the implant. Then, we make a small incision in the soft tissue where the implant post can be inserted. A protective cap is placed to allow the implant site to heal and preserve the space necessary to attach the restoration once the healing process is complete. Patients will typically need to wait three or more months following treatment for the implant post to fuse with the jaw creating a support that closely resembles the natural root system.
---
Implant-Retained Dentures
If you've experienced advanced tooth loss, an implant supported partial or full denture may be your best option. Like traditional partial and full dentures, implant retained prosthetics utilize a base material to support numerous missing teeth. Where traditional dentures are anchored to surrounding teeth or utilize suction between teeth and gums for support, your implant-retained denture will be naturally supported by three to six dental implant posts that replace missing tooth roots. This recreates your lost teeth, creating a seamless, natural appearance and long-lasting stability.
---
Dental Implant Restorations
Depending on the number and location of missing teeth, your restoration process will vary. Typically, we recommend one of the following options:
Crowns – to replace one tooth, we anchor a crown to one implant post, and we may be able to fuse two crowns together replacing two teeth attached to one implant post
Bridges – when patients are missing numerous consecutive teeth, we can use an implant post at each end of a fixed bridge to support the tooth replacement prosthetic, and in some cases, we can use a series of bridges to replace an entire arch of teeth though this is rare
Partials and full dentures – like their traditional counterparts, implant supported dentures use a gum-colored base material to support numerous replacement teeth up to a full arch, and they can typically be anchored using four to six implant posts
---
Cost of Dental Implants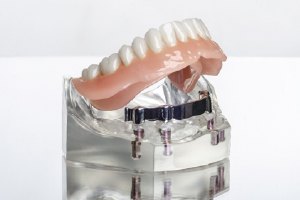 Dental implants allow you to make a long-term investment in your smile and your quality of life. When determining how much your treatment will cost, there are various aspects that influence the amount you will have to pay. To help keep your procedure affordable, there are several payment options you can use, such as your dental insurance and CareCredit.
---
Caring for Dental Implants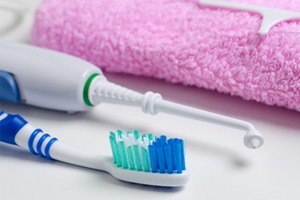 Dental implants are proven to last for several decades with the right aftercare. Although they are not subject to decay, it is vital you take the time to brush and floss them daily. This removes harmful bacteria that can lead to an infection called peri-implantitis. Besides your home oral hygiene habits, it is also best to see your dentist at least twice a year for a cleaning and checkup. With a proactive approach, you can help protect your investment to ensure your new smile lasts.
---
Advanced Dental Implant Procedures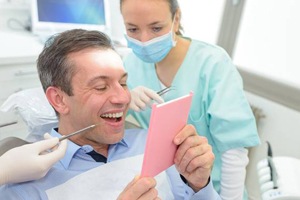 Many patients understand that replacing missing teeth with a dental implant supported restoration is going to be a lengthy and complex process. What they may not know is that the dental implant placement procedure can be just one of several complex treatments that are necessary as part of the overall tooth replacement plan. In addition to dental implant placement, you may also need one or more advanced preparatory services like bone and soft tissue grafts or tooth extractions. These procedures are often necessary to improve a patient's chances for successful dental implant placement and restoration.
---
All-on-4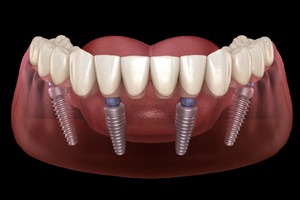 With All-on-4 dental implants, Dr. Thomas can replace an entire arch of teeth with as few as four dental implants. They're placed at strategic positions throughout the jaw, in areas where the bone is naturally thick and strong. After the implants are inserted, you'll immediately receive a provisional denture. All-on-4 is a remarkable procedure that offers many of the benefits of traditional dental implants, including a strong bite and a confident, beautiful smile.
Dental Implant Salvage
We'll typically take every precaution to ensure that your dental implants are a success, but complications can still occur even with the best preventive care. If an infection or an injury causes your implants to fail, call us as soon as you can so we can narrow down the cause and figure out the best way to go about treatment. Once we're sure that the mouth is healthy and that the jaw is ready to support implant posts, we can attempt the surgery again.