Implant-Retained Dentures – Sparks, Nevada
Restore Your Whole Smile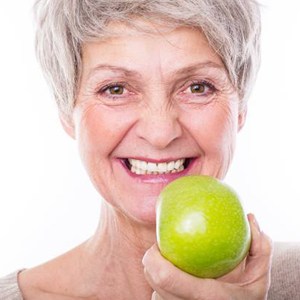 Extensive tooth loss can be an extremely difficult situation. It's stressful, painful, and even embarrassing for many people. Fortunately, the Sparks, Nevada dentist and team at Vista Dental Care are here to help. We offer a range of tooth replacement solutions to put the smile back on your face. Whenever possible, we highly recommend dental implant supported partial and full dentures rather than the traditional, removable prosthetics. Because these solutions restore the smile from the roots up, you'll have the confidence to speak clearly, eat all of your favorite foods, and smile in any personal or professional situation. If you want to learn more about dental implant-retained dentures and your other tooth replacement options, call to schedule a consultation in our Sparks dental office today.
---
What are Implant Supported Dentures?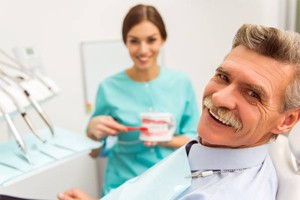 Traditional partial and full dentures use a gum-colored base material to support numerous replacement teeth or a full row of teeth. The partial will fit snuggly filling the gaps in the smile held in place using clasps attached to surrounding teeth. Full, removable dentures are shaped to fit against the gum line. The snug fit creates suction between the denture base and gum line that holds the prosthetic in place. These restorations need to be replaced every five to ten years and only restore about 20% of chewing ability.
An implant supported partial or full denture offers a longer-lasting solution with dramatically improved stability. Using just three to six strategically positioned dental implant posts to mimic the support provided by tooth roots, the implant denture restores 70% or more of your smile's natural stability closely mimicking your damaged smile. Once in position, your implant denture can last for two or more decades with proper care.
---
How do Implant Dentures Work?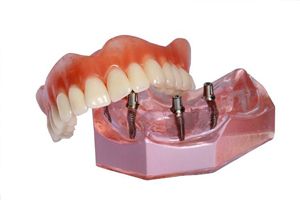 As is the case with other implant supported tooth replacement plans, the implant denture tooth replacement process consists of several treatment phases that can take months to complete. We'll begin by preparing your smile, which may include removing damaged teeth, placing tissue grafts, and a variety of other services. Then, we surgically place the dental implant posts. Over the course of several months, these implants fuse with the bone and gum tissue, mimicking tooth roots. Once the implants have fused with the jawbone, you can return to our office where we attach a custom denture to your implants.
---
How do I Care for My Implant Denture?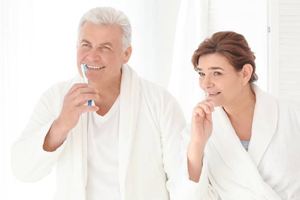 One of the best things about dental implant supported dentures is how easy they are to care for. You can simply brush them, using a soft bristled toothbrush, twice a day as you would your natural, healthy teeth. We also recommend that you brush or rinse your mouth between meals to remove any stuck-on foods. For best results, you may also want to use an air or water flosser to remove plaque and tartar buildup around your denture and gum line. During your six month dental checkups and teeth cleanings, we'll carefully examine your denture and implants and provide treatments as necessary to keep your smile functioning flawlessly.