Dental Bridges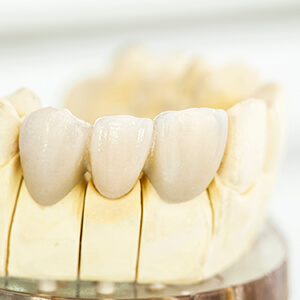 Every tooth plays an essential role in the form and function of the smile, so whether you've lost a single tooth or a full row of teeth, replacing them as quickly as possible should be your priority. However, many patients who've lost only one tooth believe it will not cause profound harm to their overall oral health, but without even a single tooth, your smile may be open to numerous concerns including:
Dental drift, teeth moving to fill in the gap in the smile
Loss of gum tissue volume and jawbone density
Change in facial structure that occurs when tissue volume decreases
If you're a patient of Vista Dental Care, we encourage you to call our office right away if you've lost one or more teeth. During a tooth replacement consultation, we'll explore all of your tooth replacement options and help you find the best option. The number and position of the lost teeth impact what treatment options are available. One of the solutions we have to replace one or more consecutive teeth is the fixed bridge, which looks and feels like natural tooth structure.
---
What is a Fixed Bridge?
You may hear fixed bridges referred to as dental bridges, crown supported bridges, or simply, bridges. Whatever name they're given, the tooth replacement prosthetic is used to replace one or more consecutive teeth by fusing dental crowns to replacement teeth called pontics. We can create the fixed bridge prosthetic to be anchored to healthy surrounding teeth by placing the dental crowns over top of them. Dental implant supported bridges function in much the same way except that the dental crowns that surround the replacement tooth or teeth are attached to dental implant posts.