Tooth-Colored Fillings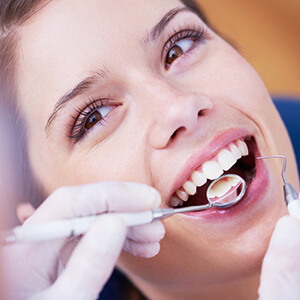 Traditionally, metal amalgam fillings were the standard in care for patients who need fillings for dental decay or damage. Today, we prefer using tooth-colored, composite resin filling materials for a number of reasons. Vista Dental Care is a mercury-free practice. We are dedicated to exceeding the minimum standards in safety for our patients, and by eliminating mercury-containing materials from our office, we have taken a step toward improving safety. Additionally, tooth-colored materials offer a strong, longer lasting, and more natural looking restoration option. If you'd like to find out more about composite resin fillings, continue reading this page or contact our team to schedule an appointment today.
---
How are Tooth-Colored Fillings Placed?
Composite resin is a mixture of glass and plastic materials that can be shaded to closely match the natural coloring of the smile. Then, we can place the putty-like material directly onto the surface of the damaged tooth. We shape the composite to fill in cracks or replace decayed tissue. The composite will seep into even the smallest crevices and grooves in the damaged tooth where it fuses with the enamel to create a strong, natural bond. Then, we use a curing light to harden the material into position. We smooth and polish the treated tooth, and most people can't distinguish between the composite and their natural tooth structures. With proper care, tooth-colored fillings can last for ten or more years.
In addition to repairing damaged teeth, we can use composite resin to conceal cosmetic flaws in a procedure known as dental bonding.