CEREC Same Day Dental Crowns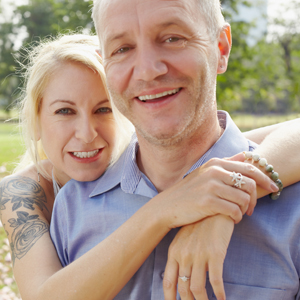 A dental crown is a tooth-shaped restoration that completely surrounds a damaged, broken, or decayed tooth. Traditionally, the process for a crown has taken two or more visits to the dentist, with weeks of waiting in between -- time you would have to spend wearing a temporary restoration. But today, Dr. Marc A. Thomas is pleased to offer a better option for dental crowns with CEREC one-visit technology. Keep reading to find out how it works and whether or not you can benefit from a one-visit crown.
What Is CEREC?
CEREC stands for chairside economical restoration of esthetic ceramics. It operates with CAD/CAM (computer-aided design and manufacturing) software and technology which allows Dr. Thomas to plan for and place a porcelain dental crown in a single appointment to Vista Dental Care. An in-office milling machine manufactures the customized crown in a matter of minutes -- all without ever leaving the comfort of our office.
How Does CEREC Work?
The procedure for a CEREC crown is completed with local anesthesia for your complete comfort. Dr. Thomas will begin by removing any decay from the tooth before reshaping the enamel to make room for the new crown to be placed on top.
Once the tooth has been reduced, a digital scan maps its new dimensions to allow Dr. Thomas to create a digital blueprint for your new crown. This information is sent securely to the CEREC machine, where the crown is manufactured from a single block of dental porcelain.
Once the crown has been created, Dr. Thomas will check its fit and appearance to make sure everything is just right. Any necessary final adjustments can be made at this point before the crown is securely bonded onto the tooth.
Benefits of One-Visit Crowns
CEREC offers a number of benefits compared to the conventional method of preparing a crown in a separate lab. Some of the key advantages include:
Saves you time as well as sick leave or vacation days from work
Digital scans are more comfortable for you than traditional bite-down impressions
Improved treatment planning thanks to increased accuracy of digital scans
No need to wear a temporary crown between visits
A crown made of dental porcelain looks and feels just like a natural tooth
Slight but present risk of miscommunication between the dental office and lab is eliminated
A CEREC crown can last just as long (or longer) than those prepared with the conventional method
Is CEREC Right for You?
Many teeth can be restored using CEREC technology. Because the crown is crafted from natural-looking dental porcelain, it is an especially effective option for a damaged or decayed tooth in the front of the smile.
To find out whether or not this one-visit option is suitable for your smile, please don't hesitate to...
Get In Touch With Us Today!
If you have an aching or damaged tooth in need of restoration, don't delay treatment any longer. Dr. Thomas can provide the efficient, high quality care you deserve with a one-visit crown. You are invited to request an appointment at Vista Dental Care today!