Perio Protect – Sparks, NV
Noninvasive, Convenient Gum Disease Treatment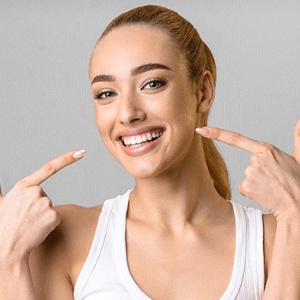 Gum disease is a serious condition that afflicts roughly half of adults in the U.S. Your risk of developing it increases as you age, and it is associated with a number of systemic health conditions. Truly, you should do everything you can to stop it from damaging your smile and your body. That is why we are proud to offer Perio Protect in Sparks. This unique gum disease treatment is noninvasive, comfortable, and highly effective.
---
What Is Perio Protect?
Perio Protect uses customized dental trays to deliver medicine into the pockets between your gums and teeth. It reaches areas of your mouth that are difficult if not impossible to access via regular brushing and flossing. You simply wear the trays in the convenience of your own home and enjoy your journey toward healthier gums. Each patient's Perio Protect treatment plan is unique, so how long and how often you should wear the trays each day can vary.
Benefits of Perio Protect
The top benefits of Perio Protect include:
It is noninvasive. It might help you avoid the need for surgery, scaling and root planing, and other traditional gum disease treatment.
It is convenient. After your trays are created, we will coach you on how to use them. Most patients have to wear them for mere minutes each day.
It has desirable side effects. The Perio Protect formula contains hydrogen peroxide. In addition to fighting the bacteria that causes gum disease, the peroxide also freshens breath and whitens teeth.
It is comfortable. Since the trays are created to fit your unique teeth, you can expect them to feel comfortable in your mouth.
It is highly effective. The Perio Protect trays have a patented seal that keeps medicine where it belongs — in your gums. With consistent and correct use, you can expect to experience noticeable results within a relatively short period of time.
Is Perio Protect Right for Me?
When you visit us for your gum health consultation, we will decide which form of periodontal therapy is right for you. Perio Protect may be used as a standalone treatment, or it may be used to complement other procedures. It can help most patients, including both those with advanced gum disease and those whose condition is in its early stages.
Are you ready to learn more about Perio Protect? Contact us today to ask questions or schedule a consultation.