All-on-4 Dental Implants – Sparks, NV
Replace Missing Teeth in a Single Day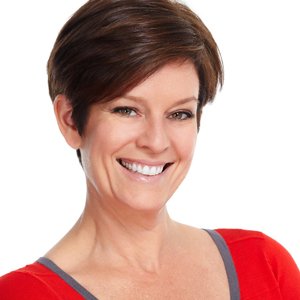 If you have lost all or most of your teeth, you may face a number of daily hardships. It may be difficult for you to enjoy a balanced diet, and you may have little confidence in social situations. Replacing your lost smile is important! Rather than turning to traditional dentures, visit our office to talk about implant-supported tooth replacement. The All-on-4 procedure could even replace your missing teeth in a single appointment!
---
How Do All-on-4 Implants Work?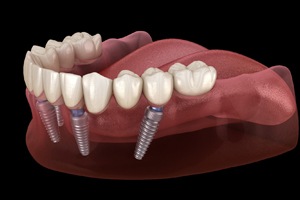 During the All-on-4 procedure, Dr. Thomas, your dentist in Sparks, places dental implants at strategic positions throughout the jaw, in places where the bone naturally tends to be thick and strong. In most cases, just four dental implants are necessary to provide the supported needed for a full denture. After the implants are in place, you'll immediately receive a provisional (temporary) denture to go on top of them.
During your recovery period, the dental implants will form a strong bond with your body. Once that bond is nice and strong, Dr. Thomas will provide you with your permanent implant-supported denture.
---
Am I a Candidate for All-on-4 Implants?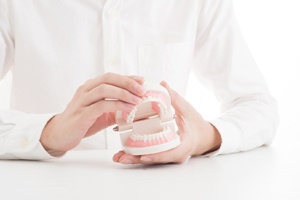 You may be a candidate for the All-on-4 procedure if:
You are missing all or most of your teeth
You don't have any major oral or overall health problems that would hinder your ability to heal after surgery
You have adequate jawbone to support the dental implants
You're interested in a streamlined, economical dental implant process
Keep in mind that All-on-4 is not the only way to replace a full arch of teeth with dental implants in Sparks. During your consultation, Dr. Thomas will thoroughly evaluate your oral structures and make a treatment recommendation based on your unique needs.
---
What Are the Benefits of All-on-4 Implants?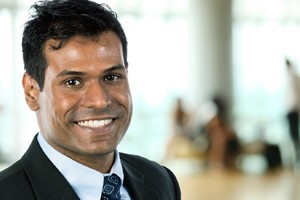 Some of the most outstanding benefits of All-on-4 dental implants include:
In most cases, no bone graft is necessary since the implants are placed where the bone is naturally thickest
Only one surgery is required (some traditional implant procedures require multiple surgeries)
The post-surgery recovery period is relatively short
All-on-4 may cost less than traditional dental implant procedures
After you receive your permanent restoration, you can expect to enjoy a strong bite and a confident smile that lasts for many years
Even some individuals who lost their natural teeth many years ago may be candidates for All-on-4
---
All-on-4 vs Traditional Dental Implants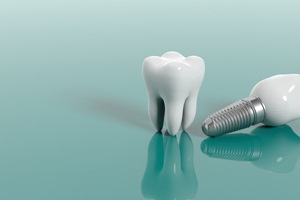 As noted above, All-on-4 has a few advantages over traditional dental implants. However, traditional implant procedures come with their own set of advantages. For example, with traditional implants, you can choose whether to have your teeth permanently fixed in place or to have a removable, implant-supported denture. All-on-4 dentures are always permanently attached to the implants.
Are you interested in learning more about your options for rebuilding your smile with dental implants? Contact our team today to schedule your consultation.