Digital X-Rays – Sparks, NV
Finding Problems Hidden Under The Surface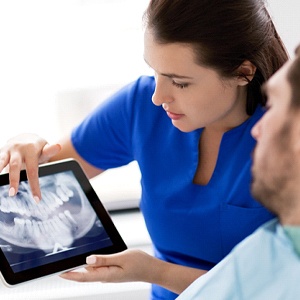 Every year, new advances are made in dental techniques and technology to more accurately diagnose and treat oral health problems. With digital X-Rays in Sparks, Dr. Thomas is able to find problems that are hidden underneath the surface of your mouth that may not be exhibiting any symptoms. They're captured efficiently and have reduced our appointment times, allowing us to focus more on forming a great relationship with each of our patients instead of waiting for film to develop. At Vista Dental Care, we equip our office with the latest technology so we can provide our patients with the highest quality of care, because we don't leave anything to chance.
---
What are Digital X-Rays?
Digital X-Rays are instantly read by your dentist in Sparks, directly after they're taken. They use an electronic sensor instead of film to capture images of your teeth and facial structure. They're then transferred directly to a computer, where your dentist can view them and send them to specialists.
---
What Problems Can Be Spotted With Dental X-Rays?
Digital dental X-Rays are an important preventive care tool that helps Dr. Thomas diagnose a variety of dental problems. Because they're high quality and clear images, they don't leave anything to chance and are completely safe for the patient. Without them, some of the following problems can go undetected:
Cysts
Jawbone deterioration
Cancerous tumors and abnormalities
Decay located between teeth
Poor tooth and root positions
Health issues located inside the tooth or below the gumline
Thanks to this advanced technology, we can immediately detect a problem and develop a treatment plan before it gets worse. That way, we're able to save you time, money, and discomfort down the road.
---
Are X-Rays Safe?
Today, most dentists use digital X-Rays because they're safer for their patients than old film ones. They produce 90 percent less radiation and are faster and more comfortable to take. Plus, since they're captured electronically, we can easily send them to other specialists without needing to develop the images and creating harmful waste for the environment.
What are the Benefits of Digital X-Rays?
This advanced dental technology offers benefits for patients and professionals alike, including:
A drastic reduction in radiation exposure compared to film X-Rays.
Dentists can instantly view, enlarge, and send the images, allowing professionals to detect issues sooner and more easily.
Since they don't require film processing, there's no need to use harmful products and chemicals for the environment.
At Vista Dental Care, patient comfort and safety are our top priorities, which is why we utilize the latest technology that dentistry has to offer. It also allows us to treat our patients more efficiently and accurately, which is how we provide the highest quality of preventive care to everyone that walks through our doors.