Gum Disease Treatment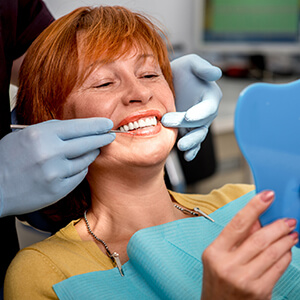 Gum disease is caused by plaque and tartar buildup at the gum line that irritates soft tissue leading to sores and the slow deterioration of supportive soft tissue and jawbone density. What begins as mild irritation can quickly transform into a detrimental issue and the leading cause of tooth loss among US adults. At each six month checkup, we screen for the common early warning signs of periodontal disease. That includes charting the depths of the pockets between teeth and gums, since increased pocket depth is one of the earliest indicators of gum disease. By keeping track of changes in pocket depth, we're able to begin treatment in the earliest possible stages. If you've experienced any early indicators of gum disease including bleeding gums, soft tissue inflammation, and chronic bad breath or it's been more than six months since your last professional teeth cleaning, we encourage you to contact our office right away.
---
Preventing Gum Disease
Like other areas of oral health, we begin working with patients to develop a personalized plan to maintain the highest level of oral health. That all begins with in-office teeth cleanings every six months paired with thorough at-home hygiene. It's essential to brush teeth at least two times daily and floss at least once a day. During checkups, our team can demonstrate the best at-home hygiene methods, make recommendations for the right products, and help you maximize your at-home hygiene routine. We also provide prescription toothpastes or mouth rinses to boost the benefit of your oral hygiene routine.
---
Periodontal Therapy
In the earliest stages of gum disease, gingivitis, we can typically renew oral health with more frequent professional teeth cleanings and improved at home hygiene. As periodontal disease spreads, we may need to provide more advanced treatments like scaling and root planing. Scaling is the removal of plaque and tartar buildup from the gum tissue pockets, and root planing is the smoothing of roots to prevent the future buildup of plaque and tartar. Following scaling and root planing, we may also recommend the use of topical antibiotics and antimicrobial mouth rinses.
---
Scaling and Root Planing
The first line of defense to prevent gum disease from worsening is a deep cleaning. Also known as scaling and root planing, the two procedures remove harmful tartar buildup and smooth the root surfaces to allow the gum tissue to heal. It also discourages future accumulations. When combined with changes to your home oral hygiene routine, it's an effective solution to treat gum disease.
---
Perio Protect
Perio Protect uses custom dental trays to deliver medicine deep into the pockets between your gums and teeth. All you have to do is use the trays in the comfort of your own home for minutes each day. Perio Protect can be used as a standalone treatment, or it can complement our other periodontal services. As a bonus, it offers some outstanding side effects. Many patients notice that their teeth are whiter and their breath is much fresher when they consistently use their Perio Protect system.