Tooth Extractions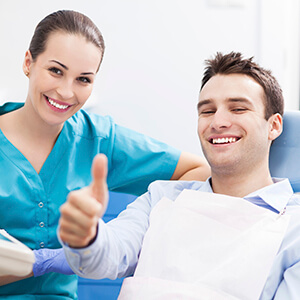 Though the dentist and team at Vista Dental Care do their utmost to help patients keep their healthy, natural tooth structures for life, there are some cases when we may need to extract one or more teeth in order to protect a patient's overall oral health. Contact our team if you think you may be in need of tooth extraction, and we'll examine your smile to help you choose the best solution. When tooth extraction is necessary, Sparks area patients can trust their smile to Dr. Marc Thomas. Our team may recommend tooth extraction in a number of situations including:
Severe decay or damage that has destroyed too much of the tooth for a dental crown or other restoration to repair it
In preparation for orthodontic alignment especially when there is severe crowding of teeth
In preparation for the design and crafting of a partial or full denture
When damage or decay may adversely affect surrounding teeth, gums, or oral structures
Third molars, wisdom teeth, are the most often extracted because there may be inadequate space to accommodate these teeth
If we determine tooth extraction is necessary, the process is completed in one appointment. We begin by numbing the treatment area. We can also offer dental sedation, especially for those patients who need surgical tooth extraction. If the tooth has fully emerged from the gums, we can usually "pull" the teeth. That means, we use tools to carefully grasp the visible portion of the tooth and rock it back and forth before pulling it free from the socket. If necessary, our team can also surgically remove teeth from below the gum line. We may need to section the tooth in order to extract it.