Dental Implant Technology – Sparks, Nevada
Precise Tooth Replacement Plans for Flawless Results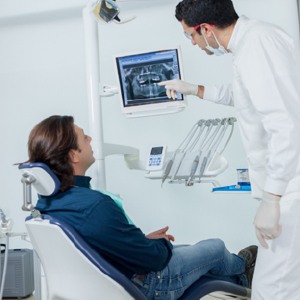 Innovative technologies surround us every day. You are likely reading this information from a tiny, hand-held computer we all call a cellphone. The field of dentistry has not been untouched by the fast advances in technology. At Vista Dental Care, we're dedicated to staying on the cutting edge of dentistry technologies. We utilize a wide range of state-of-the-art dentistry techniques and technologies in order to make the dentistry services we offer faster, safer, and more effective for every patient who visits. When we provided complex dental treatments like dental implant supported tooth replacement, it makes sense that we would rely on all the most innovative strategies at hand to ensure the ideal end result. Below, we'll discuss some of the high tech tools we utilize to create seamless dental implant tooth replacement plans to put the smile back on your face. If you want to learn more or schedule a tooth replacement consultation, don't hesitate to contact our dental office in Sparks, Nevada.
---
CT/Conebeam Scanning
The key to our precise dental implant tooth replacement planning is the use of 3D CT conebeam scans. Unlike traditional x-rays that only allow us to see a two-dimensional image of one section of the smile, our CT conebeam scanner can give us a 360 degree view of one tooth or your entire smile. When we're planning a tooth replacement procedure, this is essential. It ensures we see the way that your new tooth or teeth will impact your bite and ensure we create a flawless looking and functioning restoration, so you can speak, chew, and smile with total confidence in every situation.
---
Digital Bite Impressions
In addition to our advanced, three-dimensional x-rays, we also utilize digital bite impressions. These are used by our dental lab to create your replacement tooth or teeth. In the past, we needed to capture impressions in putty and mail them to the dental lab. This process not only takes longer, but it also increases the risk for human error. Digital impressions precisely capture every pit and groove in your prepared smile. Then, we can instantly transfer the impressions to our trusted dental lab, so they get started creating your replacement tooth or teeth immediately.
---
Same Day Restorations with CEREC
In addition to advanced treatment technology to improve the planning process and dental lab communication, we also use the state-of-the-art CEREC system to create replacement teeth in just one appointment. CEREC allows us to perform the entire design and crafting process for dental restoration right her in our office. That means you can have a brand new, custom dental crown or bridge on the same day your abutment are placed.