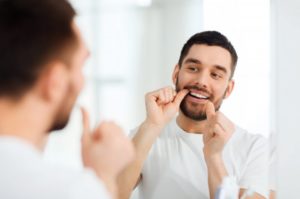 You might think that September is a nothing-special month with the exception of Labor Day and the Fall Equinox, but that's where you'd be wrong. September is National Gum Care Month! Let's take a moment to learn about how to take care of our gums, what gum disease treatment in Sparks entails, and more. Here are 5 things you need to know to celebrate this month in style.
1. Flossing Is the Best Thing for Your Gums
Brushing your teeth is massively important for the health of your teeth. Did you know that flossing is just as important for your gums? It's the only way to remove plaque from between your teeth and along your gumline. Plaque contains bacteria that may lead to cavities as well as gum disease.
2. What Gum Disease Is
Gum disease, also known as periodontal disease, is a bacterial infection in your gum tissue, usually caused by poor oral hygiene. When plaque builds up for too long, it can irritate the gum tissue, causing symptoms like:
Bleeding gums
Constant bad breath or bad taste in your mouth
Pus oozing from gums
Bumps or sore on the gums
Tenderness, redness, or swelling in the gums
3. Periodontal Disease in Sparks May Lead to Other Issues
Bacteria in gum disease widen the pockets between your teeth and your gums. By entering these pockets, bacteria can reach your bloodstream and travel to other parts of your body. Because of this, they can contribute to health problems such as:
Diabetes
Heart disease
Alzheimer's disease
Digestive issues
Birth complications in pregnant women
4. How Your Dentist in Sparks Treats Gum Disease
If you and your dentist catch gum disease in the early stages, it can usually be treated with better oral hygiene and/or a round of antibiotics. However, if periodontal disease reaches its later stages, more advanced therapy may be required, such as scaling and root planing.
Scaling involves removing plaque and tartar from the pockets in your gum tissue. Root planing is when your dentist smooths out the roots of your teeth to keep bacteria from accumulating there. Following that treatment, oral antibiotics and antibacterial mouthwash might be prescribed.
5. How to Prevent Gum Disease
The best way to treat gum disease is by preventing it from happening in the first place. You can ensure that by sticking to these steps:
Brushing twice a day with fluoridated toothpaste
Flossing at least once a day
Abstaining from smoking
Keeping sugar consumption to a minimum
Visiting your dentist twice a year for a checkup and cleaning
By following the steps listed above, you can keep your gums in excellent health all year round, but especially during National Gum Care Month!
About the Author
Dr. Marc Thomas graduated from the University of the Pacific with his Doctor of Dental Surgery degree in 1993. Following that, he served his country in the U.S. Army Dental Corps. His practice offers periodontal therapy to treat gum disease. To schedule your next cleaning at Dr. Thomas' Sparks, NV office, click here or call (775) 626-3535.