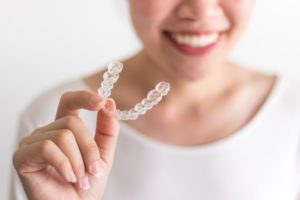 You've been bothered by your crooked smile for years, and you've finally decided that it's time to do something about it; you're even considering whether you'd be willing to deal with the awkwardness of braces. However, you just found out that traditional orthodontic braces often need to be worn for a long time – sometimes even two or three years! Fortunately, there's another method for straightening teeth that works much faster and even avoids having to wear all that metal in your mouth. Learn more about the advantages of Invisalign in Sparks.
What is Invisalign?
Rather than wires and brackets, Invisalign uses a series of custom-fitted alignment trays. Each tray is worn for a set period of time, making small adjustments to your teeth over time; each set will typically be worn for two weeks, although your dentist in Sparks may tell you to keep them longer.
This treatment can work for mild cases of gapped teeth, crowded teeth, overbite, underbite, or crossbite.
How Long Does Invisalign Treatment Usually Last?
The Invisalign process will usually last about 6 to 12 months, though it will vary from patient to patient. In comparison, traditional braces are worn on an average of 18 to 24 months, and sometimes it may be even longer. This makes Invisalign your treatment of choice if your looking for results sooner rather than later.
What Other Benefits Does Invisalign Have?
In addition to shorter treatment time, there are other reasons why Invisalign is often a preferred approach to orthodontics in Sparks:
The aligners are see-through, meaning the casual observer is much less likely to notice them. This makes it easier to maintain a professional appearance and give a confident smile during social situations.
There's no brackets and wires to deal with. Not only is this more comfortable for your mouth, but it also means fewer appointments for adjustments.
The aligners are removable, so there aren't any limits on what you can eat or drink during treatment. This also makes it easier to brush and floss like you normally would.
Am I Good Candidate for Invisalign?
Teenagers and adults often choose Invisalign for the aesthetic advantages over traditional braces. However, young children are generally not suited for this form of treatment because their teeth are still growing. Particularly severe cases of tooth misalignment can also be an obstacle.
Your dentist will need to evaluate your mouth in order to determine whether you're a suitable candidate for Invisalign. Also, it's important not to take the aligners out too much or else it could delay treatment time. For whatever form of orthodontic treatment you get, always ask any questions you have and follow the dentist's instructions; that's the real key when trying to obtain straighter teeth.
About the Author
Dr. Marc Thomas has served in the US Army Dental Corps. At his current practice, Vista Dental Care, he brings patients the best of modern dental technology and techniques. For those suffering from a crooked smile, he offers Invisalign and other cosmetic treatments such as porcelain veneers. To schedule an appointment, visit his website or call (972) 818-1300.