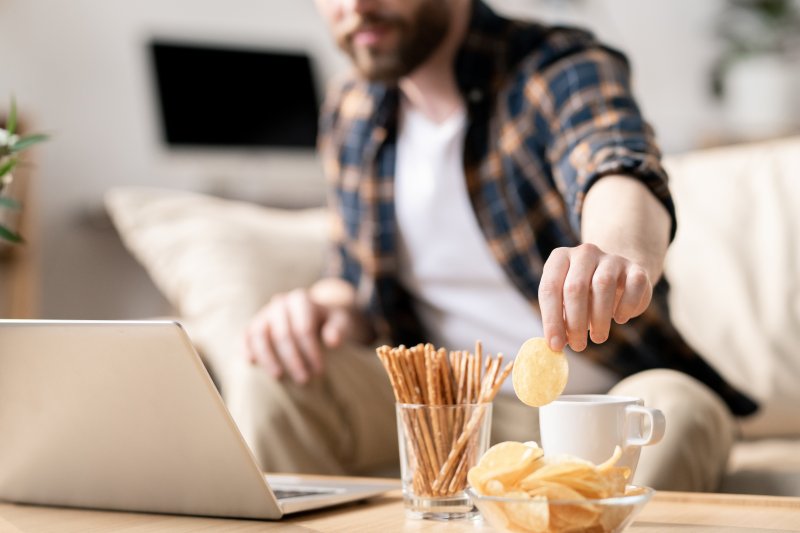 Aside from baseball, snacking can sometimes seem like a great American pastime. If you're stressed, depressed, or just plain bored, you probably grab a snack to fill your day (and your stomach). It certainly makes sense, given the constant advertisements for sodas, chocolates, and other tasty treats. However, this widespread habit may be harming your oral health. Learn more about the connection between your teeth and snacking with Sparks dentists.
How Snacking Can Hurt Teeth
Your pearly whites will suffer tooth decay when you eat a steady supply of sugary foods and drinks. The above items stimulate mouth bacteria to produce enamel-eroding acid, leading to cavities and infections.
Unfortunately, these negative effects can occur even when your "snacks' aren't very large. If you have small amounts of sugared products many times a day, bacterial acid will attack your enamel repeatedly. In other words, how often you eat can have just as much impact as how much — for better and worse.
Tips to Prevent Bad Snacking
Still, snacking's potential harm doesn't mean you'll have to go hungry throughout the day. It simply means you need to practice different eating habits. Here are a few food-related tips to help you snack better (or less):
Eat breakfast – Start your day with a high-protein meal to stay full longer. That way, you should feel less tempted to snack before lunch.
Hydrate often – The human body can sometimes mistake thirst for hunger and vice-versa. Drink a lot of water throughout the day to curb your cravings.
Practice Meal Planning – If you plan out your meals, you won't have the urge to snack as much. After all, you know you'll have delicious food soon enough!
Eat Healthier Alternatives – Instead of eating stuff high in sugar and starches, try substituting more nutritious items like apples, yogurt, walnuts, etc. Cheese is particularly good for teeth — it has a lot of fat, though, so be careful.
Hard as it may be to give up your favorite chips, sweets, and soda, you're ultimately better off. By doing so, your natural smile will stay beautiful and healthy for much longer!
About the Practice
Vista Dental Care in Sparks, NV, is a well-established dental practice. Currently led by Dr. Marc Thomas, it offers comprehensive smile care for patients of all ages. More specifically, their team provides preventive, cosmetic, and restorative dentistry treatments, including emergency care. Thanks to their innovative dental technology, the staff can guarantee high-quality results. For more information or to book an appointment, you can reach them at their website or by phone at (775)-626-3535.