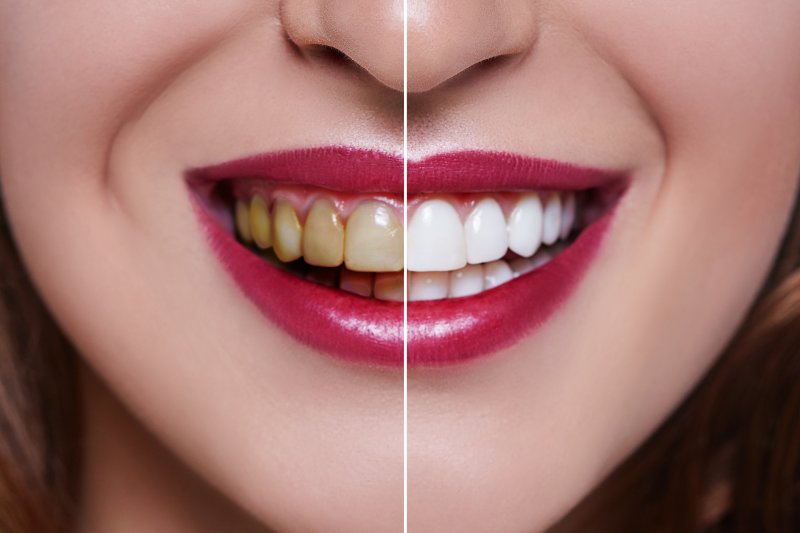 You probably think your teeth are meant to stay white for your entire life. If or when they do change color, it's because you aren't caring for them well. However, that isn't true. Teeth can also change color simply through aging and genetics. In other words, it isn't merely a matter of poor oral health.
Listed below are four standard colors for teeth. Read about them and learn what your tooth color says about you!
White
Your teeth are whitest during early childhood because baby teeth's traits make them whiter than adult versions.
Your first 'pearly whites' aren't just benefiting from a lack of stains. Compared to adults' permanent ones, baby teeth are more calcified and thus have whiter surfaces. Furthermore, their dentin is so light-colored that little is visible through the translucent enamel.
Light Gray or Light Yellow
As you get your permanent adult teeth, you'll notice your smile isn't as it was during infancy.
Permanent teeth are darker than baby teeth due to differences in tooth structure. There's more dentin in the former than in baby teeth, which significantly impacts permanent teeth color. Dentin then becomes more visible through enamel as you age, making your teeth appear more yellow or gray.
Yellow
When your teeth turn a solid yellow, you should consider the quality of your oral hygiene.
Though dentin darkens as you age, yellow teeth typically indicate that foods and drinks have stained your enamel. Beverages like tea, coffee, and red wine have powerful pigments that attach to enamel and alter the color of your teeth. Plaque can also accumulate with meals, leaving teeth dirty and yellow.
You can usually remove yellow plaque buildup with regular brushing, flossing, and dental visits. Without such care, plaque will eventually permanently stain your teeth.
Brown
Teeth seldom turn brown as a result of the aging process. Instead, it's typically the result of yellow stains getting worse.
While age, injury, and genetics can darken teeth, tobacco products are the most common culprits of brown discoloration. If you see brown spots on your teeth, you should see your dentist as soon as possible to confirm if they indicate tooth decay.
Your smile's color can change for various reasons over time. Remember to schedule regular dental checkups to ensure that your tooth color isn't a sign of something serious.
About the Practice
Vista Dental Care is based in Sparks, NV. Led by Dr. Marc Thomas, their team offers a wide array of dental care solutions, including preventive, cosmetic, and restorative dentistry. They also provide more advanced treatment options like tooth replacement, sleep apnea therapy, and emergency dental services. The practice collectively stands for compassion, technology, and science and consistently delivers excellent smiles for its patients. For more information or to book an appointment, they can be reached at their website or by phone at (775)-626-3535.