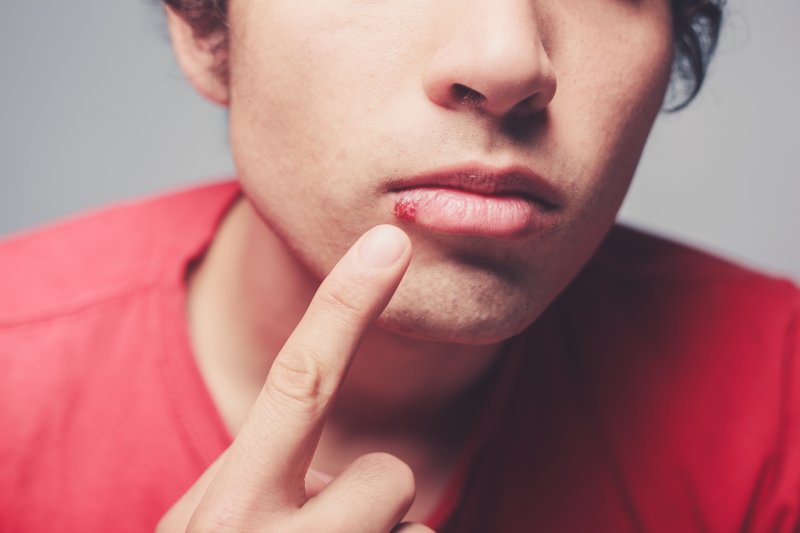 Most people tend to consider mouth sores interchangeable. Whatever their unique distinctions, the latter are unpleasant, painful, and better off gone. However, knowing their differences can help you discern the best possible treatment options.
Below is a summary of the contrasting traits, causes, and treatments for canker and cold sores. Read on so you can tell them apart and deal with each appropriately.
Canker Sores: Traits & Causes
Canker sores are small white swellings surrounded by an area of redness. They only occur on the inside of your mouth, typically on your inner cheeks or lips or below your tongue's soft palate. They're typically round or oval in shape as well. You may notice a burning or tingling feeling before they appear.
The causes of canker sores are unknown, but they aren't contagious. You can't get them by sharing utensils or kissing. Some possible triggers include mouth injury, vitamin B-12 deficiency, toothpaste with sodium lauryl sulfate, and stress.
Cold Sores: Traits & Causes
Cold sores are fluid-filled blisters that develop around the lips, nose, or chin. Those with a new case may experience:
Burning or tingling as they develop sores around the lips
A sore throat or painful swallowing
Swollen lymph nodes
Body aches
Headaches
Fever
Nausea
Cold sores stem from the herpes virus, most commonly the HSV-1 strain. They're very contagious, especially when the blisters are oozing. The herpes virus itself can spread through shared eating utensils or toothbrushes, not to mention kissing. If you've had herpes for a long time, you may experience periodic outbreaks of cold sores.
How to Treat Canker Sores & Cold Sores
Most canker sores don't require outside intervention and disappear on their own within a week or two. You could treat larger or more painful sores with over-the-counter creams and gels, especially those that have hydrogen peroxide or benzocaine. If they come from underlying health problems or nutrient deficiencies, your doctor can also work with you on additional treatment.
Cold sores similarly fade on their own within a few weeks. Still, some topical medicines ease symptoms and speed up healing, including over-the-counter creams made with lidocaine and docosanol. Your doctor might prescribe you antiviral drugs for advanced cases.
Even if they're equally frustrating, canker sores and cold sores require varying approaches. Know how they differ so you'll handle them more effectively if and when you get them.
About the Practice
Vista Dental Care is one of the top dental practices in Sparks, NV. By embodying the values of compassion, technology, and science, they provide patients with comfortable and customized dental treatments. Their services include standard preventive, cosmetic, and restorative dentistry. However, they also offer emergency dentistry and sleep apnea therapy. In all cases, their dental technology ensures that they can give you a beautiful smile. For more information or to book an appointment, they can be reached at their website or by phone at (775)-626-3535.