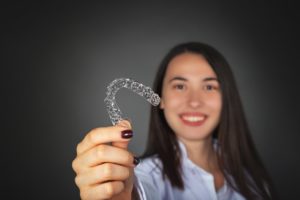 If you have always dreamt of a straight smile but don't want to deal with the sightly appearance of brackets and wires, SureSmile may be the solution for you. Clear aligners can gradually move your teeth into their correct positions. You won't have to worry about the appearance or restrictions of metal braces; however, there are 4 things you should know about the road ahead. Here's how to prepare for SureSmile.
1. You'll Need a Consultation
Clear aligners can fix several bite and alignment issues, but they aren't right for everyone. Your first step to a straight smile involves scheduling a consultation with your cosmetic dentist. They'll examine your mouth and learn more about your goals to determine if SureSmile is right for you.
2. Creating Your Personalized Plan
It's not unusual to need a little prep-work before beginning your treatment, like fillings or gum disease therapy. After your mouth is healthy, your dentist will take digital scans to start planning your orthodontic journey. They will use advanced technology to map the movement of your teeth, which is fabricated to a series of aligners that will be worn over your teeth. Don't expect to get your aligners the same day. It can take the dental lab a couple of weeks to ensure each aligner is crafted with the utmost precision to safely move your teeth.
3. Restock Your Oral Hygiene Products
While you wait for your aligners, take inventory of your oral hygiene supplies. A clean smile is crucial to achieving the results you want. You'll have to step up your brushing routine to prevent food particles and plaque from getting trapped between your aligners and enamel. Besides brushing after every meal, floss nightly, and use a mouthrinse daily to remove anything left behind by your toothbrush. You'll also need a soft-bristled toothbrush and clear hand soap or dishwashing liquid to clean your aligners. Get all the necessary dental products ready, so you have everything you need as soon as you receive your aligners.
4. Getting Your Aligners
When the big day comes to start wearing your aligners, your dentist will review your treatment plan and instructions to follow at home. You must commit to wearing your aligners for a minimum of 22 hours daily. You must also switch to the next aligner in the series on time to avoid unnecessary complications with your treatment.
It can take a few days to adjust to wearing the aligners, but soon you won't notice they are there – and neither will anyone else. You'll benefit from a discreet, effective solution to improve your smile without brackets and wires.
About Dr. Marc Thomas
Dr. Thomas earned his dental degree from the University of the Pacific before serving in the US Army Dental Corps. He regularly completes continuing education courses to offer advanced treatments, like orthodontics. He'll create the personalized plan you need to fix bite and alignment problems without metal braces. Contact our office today to schedule your consultation for clear aligners with SureSmile.