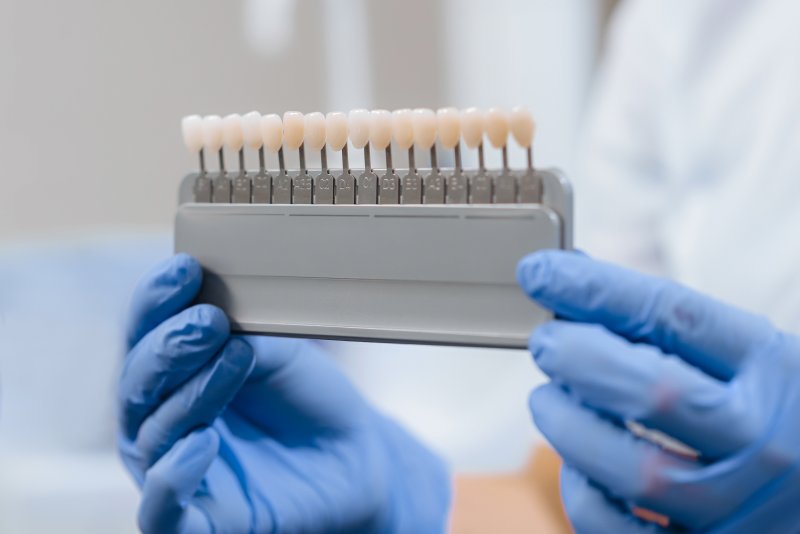 Do you tend to feel self-conscious about your teeth? Maybe this causes you to avoid smiling when taking a selfie or in social encounters? If you're looking to cover up any embarrassing dental imperfections, then dental veneers might be your best bet! Keep reading to learn the top seven benefits of porcelain veneers.
Benefit #1: They're an Easy & Simple Cosmetic Repair
Dental veneers are slim pieces of porcelain that are cemented to the front of your teeth for a cosmetic fix. Whether you're wanting to get rid of stains or to repair chipped teeth, these custom-made shells provide an easy solution for the smile you want. They're even a viable treatment for enamel loss.
Benefit #2: Veneers Provide a Natural Look
Even though veneers are porcelain, they still offer a completely natural appearance for your teeth. By matching the color and shape of your real teeth, the veneers will fit your overall facial symmetry and style. They also reflect light in the same way natural teeth do, making it seem like you've had them all along!
Benefit #3: The Procedure is Minimally Invasive
Before placing the veneers, your dentist will first remove a tiny portion off the front of the teeth, so they won't create a bulky and unusual look. Most people require very little to no anesthesia for this procedure, and the change to your natural teeth is as minimal as possible.
Benefit #4: They're Durable & Long-Lasting
With proper maintenance, your veneers can last for many years! Not only can they last for 15 years or more, but they also resist chipping and cracking.
Benefit #5: Veneers are Easy to Maintain
You won't have to do anything more for maintaining your veneers than simply brushing and flossing like normal teeth. By also regularly visiting your dentist for a checkup, you can ensure their preservation continues without a hitch.
Benefit #6: A Perfect Tooth Whitening Option
Unlike natural teeth, veneers are stain-resistant from foods and drinks like coffee or soda. For this reason, you won't have to worry about further teeth whitening options, as your veneers will always be selfie-ready!
Benefit #7: Veneers are a Worthy Investment
Since veneers provide a durable, permanent white smile, most people find them a worthwhile investment. They simply offer the most complete smile makeover for your dream teeth, and you won't have to repeatedly whiten them.
By choosing long-lasting and beautiful veneers, you may find your self-confidence go through the roof. Talk to your dentist to discover if veneers are right for you!
About the Author
Dr. Marc Thomas earned his DDS from the University of the Pacific, and is a proud member of the American Dental Association and the Northern Nevada Dental Society. With high-quality dental care and patient comfort as his top priorities, he provides a vast collection of treatments, including veneers, for creating your dream smile. If you want to know more about the benefits of veneers, visit his website or call (775) 626-3535.