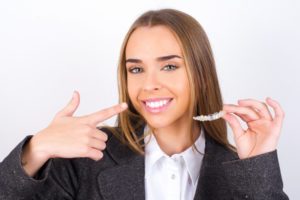 These days, if you are looking to straighten your smile, you don't need to settle for a mouthful of metal brackets and wires for 18 months or more. Instead, you can opt for SureSmile in Sparks. This treatment involves the use of clear aligners to slowly shift your teeth into their proper locations. While anyone can benefit from straighter teeth, some professions make this treatment particularly appealing. Read on to learn from your dentist about SureSmile benefits, as well as who can best reap the rewards from this teeth-straightening option.
What Are the Benefits of SureSmile?
Many people prefer SureSmile over traditional braces, and here are some reasons why:
More Comfortable: No teeth straightening option is completely free from discomfort, but SureSmile tends to lead to less soreness because it uses less overall pressure to move your teeth into their new positions.
Subtle Appearance: When you're an older teen or adult, you don't want metal braces to stand out when you smile. SureSmile is practically invisible, so no one will even be able to tell that you're wearing it.
No Food Restrictions: You can eat and drink whatever you'd like with SureSmile because they are removable. There is no need to cut out your favorite foods. Just be sure to brush and floss your teeth before putting your aligners back in.
Who Has the Most to Gain from SureSmile?
Even though many people are better off after going through SureSmile treatment, it is especially true for people with the following professions:
Onstage Performers: If you find yourself in front of crowds of people often for your career, SureSmile is a great option to perfect your smile without having to worry about showing off metal brackets and wires for 18-24 months. They can boost your confidence without repercussions.
Sales Representatives: If you're working in sales, you know that a smile makes you seem more approachable and friendly. Both qualities are important while you're trying to close the deal on a sale.
Entrepreneurs: Did you know that people who smile more are perceived to be more confident and successful? If you're an entrepreneur trying to get your brand off the ground, having a uniform, straight smile that screams confidence can help you get there.
If you have one of the professions listed above, you may benefit from the decision to get SureSmile treatment. Not only can it help to improve your confidence, but it may be able to boost your success in the workplace. You'll be reaping the benefits in no time!
About the Author
Dr. Marc Thomas earned his dental doctorate from the University of the Pacific before serving in the U.S. Army Dental Corps. He is a member of the American Dental Association and the Academy of General Dentistry. Dr. Thomas prioritizes patient comfort and satisfaction. If you are interested in SureSmile, Dr. Thomas can help you get started to address crowded or gapped teeth, as well as underbite, crossbite, and overbite. You can ask any questions you might have during a consultation, which you can schedule on his website or by calling (775) 626-3535.