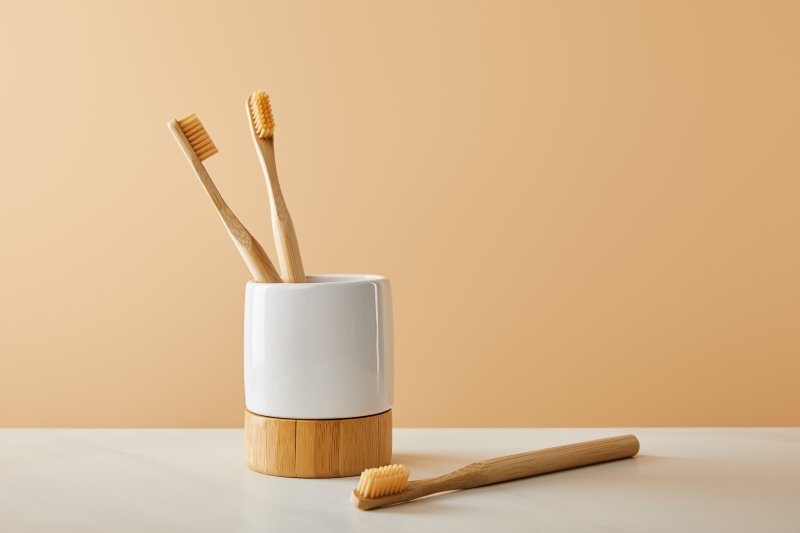 What do you think the dirtiest surfaces in your home are? Believe it or not, the toilet doesn't even crack the top five. Even so, three of the dirtiest items in your home are located in your bathroom and may mean bad news for your oral health. To make sure you keep your teeth and the rest of your body healthy, read on to learn about three of the dirtiest objects in your home and how to keep them clean.
#1. Toothbrush Holder
According to a 2011 public health organization report, 27% of toothbrush holders tested positive for coliform bacteria. Some examples of these include salmonella and E. coli, both of which can have a negative impact on your teeth. E. coli and salmonella can cause you to vomit, and the stomach acid can eat away at your tooth enamel and make it easier for harmful oral bacteria to get in and cause cavities. Therefore, it's incredibly important to thoroughly clean your toothbrush holder or switch it out every six to twelve months.
#2. Toothbrush
Your toothbrush comes into contact with oral bacteria on a daily basis, so it's no surprise that it isn't the cleanest thing in the world. Plus, if you don't switch out your toothbrush after you're sick, you run the risk of reinfecting yourself by welcoming germs and bacteria back into your body. To keep your teeth from being continually exposed to harmful bacteria and germs, the American Dental Association recommends buying a new toothbrush every three to four months. It's also wise to disinfect your toothbrush after each use by submerging it in hot water or mouthwash.
#3. Your Bathroom Towels
Since bathroom towels are only used after washing your hands, many people only clean them once a week. However, studies show that the average person doesn't wash their hands thoroughly enough. This combined with the dampness of the towel leads to it quickly becoming contaminated with bacteria, which can transfer back to your hands after you've cleaned them. If you use that same towel to dry your lips and cheeks after you brush your teeth, that bacteria can be transferred to your face and mouth. Washing your bathroom towels every three to five uses is imperative to avoiding contaminating your oral cavity.
To keep your hands, mouth, and home safe and clean, make sure to frequently disinfect and replace the above items. This way, you'll be doing your part to keep your immune system strong and your oral health in perfect condition.
About the Author
For trustworthy, high-quality oral health services, Vista Dental Care is the place to be! They treat patients of all ages in their Sparks office and do whatever they can to help you keep your oral health in the best shape possible. From cosmetic treatments to regular checkups and cleanings, your dental care is in good hands. To make an appointment or to learn more about common household items that can have a negative impact on your oral health, visit Vista Dental Care's website or call them at (775) 626-3535.