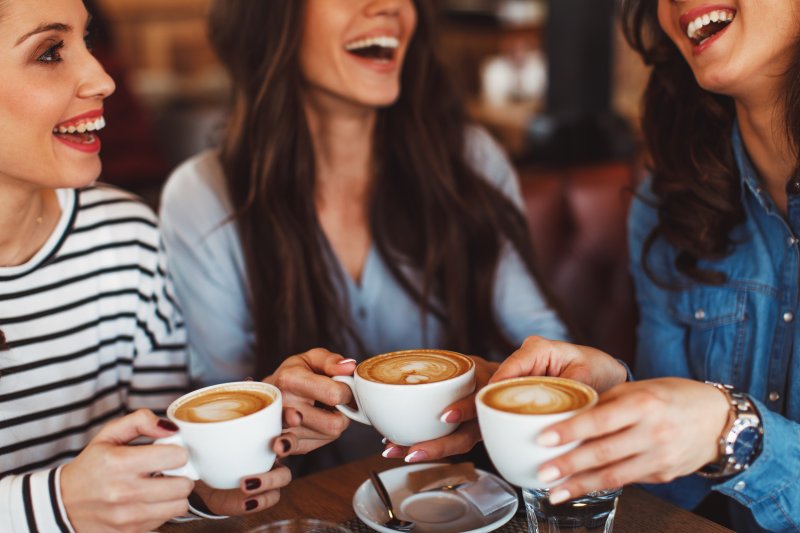 Getting up and going in the morning isn't always the easiest task, but sometimes it is necessary in order to have a productive start. Fortunately, a hot cup of coffee is available to help. According to the United States Coffee Association, over half of American adults drink coffee each day. It has all sorts of different benefits for your body, but you might not know exactly how it is affecting your smile. As National Coffee Day approaches within the next month, you may benefit from knowing a little more about how your oral health is affected. Continue reading to learn more.
What Does Coffee Do to Your Teeth?
Coffee has numerous benefits, but just like any beverage that isn't water, coffee can be harmful for your smile if you are having it too often. It causes the natural bacteria in the mouth to create acids that attack the teeth and leave them vulnerable to decay. Your risk of tooth decay and cavities is even higher if you are continuously sipping on it throughout the day. Many people also like to add a scoop of sugar to sweeten it. This only worsens the effects. Sweet, commercial coffee drinks are loaded with sugar, so they can cause all sorts of issues if you are constantly consuming them. They're just like liquid candy!
How Does Coffee Cause Tooth Discoloration?
We all know that coffee has become known for staining teeth. This is because it contains an ingredient called "tannins." This polyphenol breaks down in water. It is also found in other beverages, like tea and wine, which are also common teeth-discoloring beverages. Coffee can also cause tooth enamel to wear down over time since it's slightly acidic. Ultimately, drinking too much coffee over the years will ultimately darken your smile and give your teeth a yellowish appearance.
How Can You Prevent the Negative Effects of Coffee?
The obvious way to reduce discoloration from coffee is to drink less of it. However, most coffee connoisseurs don't want to cut this beverage out of their morning. If you are always looking forward to your morning cup of coffee, try to drink it quickly instead of sipping slowly. You could also try using a straw to reduce the contact between the liquid and your teeth. Once you finish your drink, give your mouth a quick rinse with water. Wait at least 30 minutes to an hour before you brush. Since coffee is slightly acidic, it can soften your enamel and leave it vulnerable to damage if you brush too soon.
You don't have to give up coffee for good. Moderation is key! By taking the steps listed above, you can keep your smile safe from the negative effects of your morning brew. Your smile will thank you!
About the Author
Dr. Marc Thomas is an experienced dentist who has been working in the field for well over two decades. He earned his dental doctorate from the University of the Pacific before serving in the US Army Dental Corps taking care of troops. Currently, he is a proud member of the American Dental Association, Northern Nevada Dental Society, Seattle Study Club, and the Academy of General Dentistry. For more information or to schedule an appointment at his office in Sparks, visit his website or call (775) 626-3535.