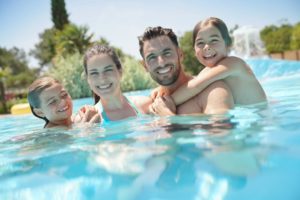 Now that another sweltering Nevada summer is here, you and your family members are looking for ways to beat the heat. One classic way to cool off is by hopping in the local swimming pool. While swimming is a great form of exercise, you may have never considered – is swimming bad for your teeth? Keep reading to learn how swimming in a pool can affect your smile's health and how you can avoid a trip to the emergency dentist's office this summer.
How Swimming Affects Your Teeth
Spending too much time in the pool may put your smile at risk for the following problems:
Swimmer's calculus – If you spend more than six hours a week in chlorinated water, you should watch out for swimmer's calculus. Frequent exposure to chlorine can result in deposits on your teeth that turn them yellow or brown.
Tooth sensitivity – Over-chlorinated pool water can erode tooth enamel, leaving you more prone to painful sensitivity. If you own a pool, use pool pH strips (which you can find for cheap at recreational supply stores) to test the water at least once a week. The CDC recommends the pH levels to be between 7.2 and 7.8.
Dental injuries – Contact sports like water volleyball can put your mouth at risk for physical trauma.
Tooth squeeze – Divers and snorkelers are at risk for barodontalgia, also known as "tooth squeeze." This happens when the air inside of your teeth contracts to match the pressure outside, which can cause intense pain or even damage to dental work like crowns, fillings, or dentures.
Lost oral appliances – Retainers can get lost in a pool or damaged from chlorine, so always take them out before swimming. If you wear dentures, you don't have to remove them, but keep in mind that water can loosen the suction between your gums and denture. Use a denture adhesive to keep them in place.
How to Prevent Swimming-Related Dental Problems
To safeguard your smile this summer, be sure to:
Ask a professional to ensure the chlorine levels in your pool are ideal.
Wear a protective mouthguard whenever you play sports.
Visit your dentist every six months for routine checkups and cleanings. Since 2021 is almost halfway over, you should have had at least one so far this year.
Get plenty of fluoride to strengthen your tooth enamel. Brush your teeth with fluoride toothpaste twice a day and drink fluoridated tap water.
After you swim, rinse your mouth with tap water.
The last thing you want this summer is for a dental problem to ruin your fun. Keep the tips listed above in mind to help your smile stay healthy while enjoying some much-deserved pool time!
About the Author
Dr. Marc Thomas obtained his Doctor of Dental Surgery degree in 1993 from the University of the Pacific. After serving in the US Army Dental Corps, he opened Vista Dental Care in Sparks, NV to provide compassionate, cutting-edge dental care for families. To learn more about keeping your smile safe this summer, you can contact Dr. Thomas at (775) 626-3535.