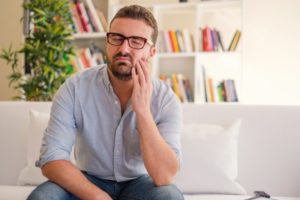 Even though dental care is more effective and accessible than ever before, tooth decay is still one of the most common chronic health conditions in the United States. According to the American Dental Association, tooth decay is five times more common than asthma, and the average adult has three teeth with untreated cavities. Because cavities are so prevalent, it's important to recognize when you might need a filling to treat them. Let's talk about how to know when you need dental fillings and which type you should choose.
6 Common Causes of Cavities
The outermost layers of your teeth contain the strongest material in the human body: enamel. However, enamel isn't indestructible. This explains why cavities are so widespread among the American population. Here are six of the most common culprits, which you can use to determine your risk:
Overconsumption of sugary foods and beverages
Poor oral hygiene habits (neglecting to floss, going to bed without brushing your teeth, etc.)
Bad habits like chewing on ice or grinding your teeth
Dry mouth
Age
Genetics
4 Signs You Might Need a Dental Filling
Cavities typically don't cause any noticeable symptoms in the early stages, allowing them to fly under the radar until they start causing discomfort or even pain. That's why your routine dental checkups and cleanings are crucial. They give your dentist an opportunity to detect cavities before they result in any issues.
If, however, you notice any of the following signs, contact your dentist right away to find out if you need a filling:
Sensitivity (in a specific tooth) to hot or cold foods or beverages
Pain when biting or chewing
A recurring or constant toothache
A visible dark spot or hole in a tooth
What's the Best Type of Dental Filling?
In the old days, patients with cavities had no choice but to get fillings made of metals like silver or gold. While these materials were effective and durable, they created dark splotches in your smile. Today, most dentists use tooth-colored fillings instead. This method utilizes a putty-like resin that can be customized to match the color of your existing enamel. No one who looks at your smile will be able to tell that you had dental work done! Plus, they're completely metal-free and preserve more of your tooth's natural structure. Ask your dentist about which solution would be best for you.
Although tooth decay continues to be a prevalent concern all across America, that doesn't mean your smile's appearance has to suffer just to get treatment. As soon as you notice the red flags of a cavity, reach out to your dentist right away!
About the Author
Dr. Marc Thomas is a dentist in Sparks, NV with more than two decades of experience in the field. He achieved his Doctor of Dental Surgery degree from the University of the Pacific before serving in the U.S. Army Dental Corps. He currently maintains active memberships in the American Dental Association, the Northern Nevada Dental Society, the Seattle Study Club, and the Academy of General Dentistry. If you suspect you might need dental fillings, visit Dr. Thomas' website or call (775) 626-3535.