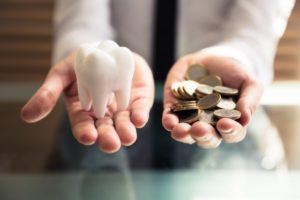 Are you thinking about getting your missing teeth replaced with dental implants? If so, you have most likely done some research and discovered that typically, dental implant cost is much higher than traditional options like dentures and bridges. However, more than five million dental implants are placed every year, making them one of the most popular ways to replace lost teeth. In fact, thanks to their long-term benefits, you might spend even less money down the road. Keep reading to learn how dental implants can save you money in the long run.
What Factors Determine Dental Implant Cost?
The process of getting dental implants requires multiple procedures that are spread out over the course of several months to a year or more. These stages, each of which incurs their own unique cost, may include:
Preparatory work such as gum disease therapy, tooth extractions, and/or bone grafting
Surgical implant placement
Design and placement of the final restoration (crown, bridge, or denture)
The final cost will also vary based on the location, number, and type of dental implants you need. Fortunately, you won't need to pay for the entire process up front. Instead, you can pay for each procedure as it happens. Your dental insurance may cover a portion of the treatment, and your dentist likely offers financing options to make your new smile more affordable.
The Costs of Dental Implants vs. Alternatives
Why are dental implants worth the price for so many people? This unique solution to tooth loss offers countless long-term benefits to your health and quality of life that bridges and dentures simply cannot deliver. Here are a few expenses to consider when deicing how to replace your missing teeth:
Initial vs. total cost. Traditional prosthetics must be repaired or replaced every 5-10 years, which can rack up expenses over time. By contrast, dental implants often last a lifetime, making them a one-time investment.
Convenience cost. Maintaining a removable denture costs time in your oral hygiene routine and money on special cleaning products, but dental implants can be brushed and flossed just like natural teeth.
Oral healthcare costs. Dental implants are the tooth replacement solution that most effectively reduces your risk of tooth decay and gum disease, both of which can require expensive treatments.
The price of a beautiful smile. Unlike dentures, implant-retained teeth should never slip out of place. They're also personalized to look as lifelike as your original teeth.
If you're looking for the most cost-effective way to replace missing teeth, dental implants are just the solution you need! Talk to your dentist to find out if this amazing treatment is right for you.
About the Author
Dr. Marc Thomas obtained his Doctor of Dental Surgery degree from the University of the Pacific. Nearly three decades later, he has continued to stay up to date on the latest technology and techniques in dentistry through continuing education courses and active memberships with multiple notable organizations, including the American Dental Association. He has even undergone advanced training to be able to place dental implants in his own office. If you are interested in rebuilding your smile with dental implants, visit Dr. Thomas' website or call Vista Dental Care at 775-626-3535.