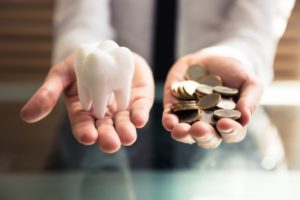 Did you know that an estimated 1 out of 4 people in the U.S. (or around 74 million) don't have dental insurance? Oftentimes, their job doesn't offer it, they're retired, or they simply can't afford the premiums. Sadly, this prevents many people from getting the care they need from a dentist in Sparks and their oral health suffers as a result. At Vista Dental Care, Dr. Thomas believes that everyone deserves high-quality dentistry, so he offers an in-house membership plan to make having a healthy smile a lot more affordable. Learn about the plan below and how you can get started!
Who Can Benefit From Our Membership Plan?
Anyone who would like to save money on their dental bills can benefit from this plan, including:
Parents who struggle to afford dental care for their kids.
Anyone who currently has insurance but feels unsatisfied with high premiums and/or poor benefits.
People who have lost their previous insurance plans because they changed jobs or retired.
How Does It Work?
We offer three different in-office membership plans for children, adults, and patients with gum disease. Each member pays a one-time annual fee of $330 for kids, $410 for adults and $680 for adults with gum disease (it's also possible to break up the annual fee into monthly payments).
From there, at no additional charge, you'll receive a pre-set number of exams, cleanings, oral cancer screenings, routine X-rays, and professional fluoride treatments. By getting these types of preventive services regularly, you'll maintain better oral health and greatly minimize the dental work you need.
However, in the event that you need additional treatment, you'll also get 15% off all other procedures such as fillings, dental crowns, root canals, etc. (or 10% off if you're using a financing option such as CareCredit).
How Can You Get Started?
It's incredibly easy to sign up for the plan. You can either apply online from our membership page or just give us a call. And if you have any specific pain or problems that you'd like Dr. Thomas to look at, you can schedule a visit at the same time and will be able to start saving right away.
Not having dental insurance doesn't mean that your oral health has to suffer. Our plan allows you to get the affordable, high-quality care you need to have a healthy smile for life!
About the Author
Dr. Marc Thomas is a general and emergency dentist in Sparks with over 25 years of experience who wants to make dentistry accessible to everyone. That's why he offers a discount membership plan to help his patients get the care they need to have a healthy smile. If you need affordable dental care and have any questions, he can be reached via his website.