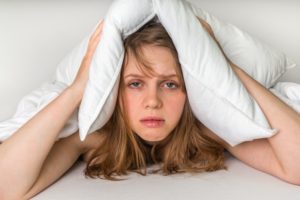 Does your partner complain about your snoring? Do you wake up feeling tired despite having a full night's sleep? If you said yes to these questions, it could seem only like a simple annoyance, but these symptoms could mean that something more serious is going on.  You could have a condition called sleep apnea, in which you experience lapses in breathing during sleep. In honor of World Sleep Day on March 15, learn more about this condition, the dangers of not seeking help, and sleep apnea treatment in Sparks with this post.
Symptoms of Sleep Apnea
Not everyone who snores or feels tired has sleep apnea, but these are very common signs that deserve your attention. In addition, if you have these other symptoms as well, you may want to talk to your dentist in Sparks sooner rather than later:
Daytime drowsiness.
Headaches, particularly in the morning.
Moodiness or depression.
By talking with your dentist, you can get a referral to a sleep center, where you can be tested and accurately diagnosed.
Consequences of Not Treating Sleep Apnea
At first, you may think that you don't need treatment even if you do have sleep apnea. It's just an annoyance, right? Think again. When you're tired, you're more likely to overeat, avoid exercise, and experience mood swings. Being sleep deprived consistently can even create dangerous situations, such as when driving or operating machinery. Research has shown that driving while drowsy can be just as unsafe as driving under the influence of alcohol. Also, sleep apnea has been found to cause multiple health problems, including high blood pressure, heart disease, preterm birth in pregnancy, and more.
Besides, just imagine how good you'll feel after getting a restful night of sleep! Why wouldn't you want to seek treatment for your sleep apnea?
Treatment of Sleep Apnea
In many cases, your dentist can provide treatment for sleep apnea with an oral appliance that you wear at night. Much more comfortable and convenient than traditional CPAP machine treatment, this appliance repositions your jaw so that your tongue and other soft tissue can't block or restrict your airway.
In the end, your time asleep every night can have a huge effect on how well your time awake goes during the day. Ensuring that you get quality sleep is worth the time and effort. As you seek necessary help, you'll likely notice a difference in your mental and overall health. If you think that you have sleep apnea or for more information about sleep apnea treatment in Sparks, contact your dentist.
About the Author
Dr. Marc Thomas has decades of dental experience, including time he spent in the US Army Dental Corps. At Vista Dental Care, he and his staff offer comprehensive dental services ranging from general dentistry to more advanced treatment. They are also able to provide oral appliances for patients with sleep apnea. To schedule an appointment with him, you can call (775) 626-3535 or click here.