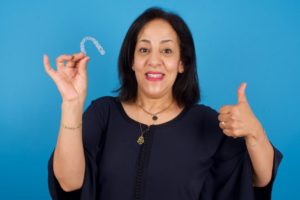 Often, advertisements for clear aligners feature young adults. Certainly, young people love this type of orthodontic treatment for its convenience and subtle appearance. But what if you have a little more life experience under your belt? You might wonder, "Am I too old for clear aligners?" You'll be happy to learn that the answer to that question is no. Clear aligner treatments, including SureSmile, are designed to be suitable for adults of virtually all ages. Let's talk about why older individuals can enjoy a successful teeth-straightening journey.
There Is No Upper Age Limit for Orthodontics
Human teeth are not directly bonded to the jawbone. Rather, they are connected to the bone via tiny ligaments. This allows them a natural capacity for movement. That is why orthodontic treatment is able to gradually shift the teeth over time. As the teeth move, the bone remodels around them to accommodate their new positioning.
As you age, the ligaments that keep your teeth in place are still there — your teeth are still able to be moved. However, your jawbone may be slower to remodel than that of a younger person, which means it might take slightly longer to realign your teeth.
Why Clear Aligners Are a Great Choice for Mature Adults
There are several reasons why SureSmile and other clear aligner treatments are suitable for older adults:
You are responsible. It takes a measure of self-discipline to wear SureSmile aligners for the recommended 20 – 22 hours each day. Your life experience has likely taught you the value of complying with treatment instructions.
Oral hygiene is easier. Life is busy. You may have a career to care for, grandkids to watch, or other obligations on your plate. Traditional braces would require you to sacrifice precious time on carefully cleaning your teeth each day. SureSmile aligners are removable, so you can continue to brush and floss your teeth with normal techniques.
The treatment is discreet. SureSmile aligners are barely noticeable. Whether you are visiting your family or giving a big presentation at work, you will not have to worry about your orthodontic treatment detracting from your natural appearance.
Is SureSmile Right for You?
While being up in years will not bar you from getting SureSmile, there are other factors that might affect your candidacy for clear aligners for seniors. Things like past dental work — such as bridges and dental implants — as well as your gum health can all play a role in determining which treatments are suitable for you. Your dentist will make a thorough evaluation of your teeth and other oral tissues before making any recommendations about your next steps.
Don't let your years of experience stop you from asking your dentist about SureSmile — it is possible to straighten teeth at virtually any age!
Meet the Dentist
Dr. Marc Thomas is an accomplished general dentist with nearly 30 years of experience in his profession. SureSmile is one of the many services he offers. If you are curious about whether clear aligners are right for you, Dr. Thomas would be pleased to answer all of your questions. Contact our office at 775-626-3535.