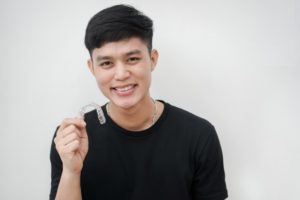 Do you wish your teeth weren't so crooked? If so, there's good news – traditional bracket-and-wire braces are no longer your only option. These days, there are plenty of choices when it comes to straightening your teeth, such as SureSmile clear aligners. This solution uses see-through plastic trays to shift your teeth into the correct positions more discreetly and comfortably than metal braces. SureSmile is incredibly effective and beneficial, but you'll still need to put some effort into caring for clear aligners. Here are six easy tips for keeping your SureSmile aligners clean.
1. Clean Your Aligners Every Morning
Your mouth dries out while sleeping, giving bacteria in your mouth the chance to thrive. When you first wake up, you should thoroughly brush your aligners as well as your teeth. Doing this right before bed will also help to keep your aligners fresh.
2. Rinse Them Off After Removing Them
Every time you take out your trays, give them a gentle rinse to remove lingering food debris and bacteria. Just make sure to only use cold or room-temperature water. Hot water could warp the plastic and render your aligners ineffective.
3. Soak Your Trays
For at least a few minutes a day, you should soak your trays in a cleaning solution specially made for SureSmile. This makes it easier to use a toothbrush (not the one you use for your teeth) to brush away food particles and plaque that might be stuck to them. Make sure to completely rinse off the aligners before placing them back in.
4. Don't Eat or Drink While Wearing the Aligners
While wearing the aligners, the only thing you should consume is plain water. Anything else could discolor or damage the trays. Always take them out before every meal, snack, or beverage.
5. Clean Your Teeth Before Putting Your Aligners Back in Your Mouth
After eating or drinking, you should brush and floss before you place the aligners back in. Otherwise, bits of food could get trapped against your teeth. This can lead to bad breath, stained aligners, and even cavities.
6. Don't Use Scented or Colored Soaps
When cleaning clear aligners, only use clear unscented soaps. Other types of soap can leave residue on your trays. Not only can this leave a bad taste in your mouth, but your trays can become discolored over time.
SureSmile has all sorts of benefits over traditional braces, but you still need to take steps to keep the aligners clean. By following these tips, you'll be showing off your beautifully straight pearly whites before you know it!
About the Author
Dr. Marc Thomas earned his Doctor of Dental Surgery degree in 1993 from the University of the Pacific. At Vista Dental Care, he focuses on helping patients achieve and maintain healthy smiles they can be proud of. One of the ways in which he accomplishes this is by offering SureSmile clear aligners. If you are looking to straighten your teeth with SureSmile, feel free to visit his website or give his dental office a call at 775-626-3535.